08-05-12
Letting their ladies do the talking: Emily Blunt in Calvin Klein, Emma Bosworth in Prada and Julianne Hough in Carolina Herrera were all allowed to shine in accents of pink
Another black look was sleek, as best personified by Rihanna, but also showcased to great effect by Rosario Dawson in super-sexy Calvin Klein and Rosie Huntington-Whiteley flying the British flag in Burberry.
Emma Roberts, Katharine McPhee and Eva Mendes were good enough to eat in various shades of orange, while the in the minority (for once) ladies in red, Chelsea Clinton, Emma Stone and Milla Jovovich made the most of the scarlet hue.
Mad Men star January Jones put pop into pastel in her fresh yellow dress, while Victoria's Secret model Candice Swanepoel was a hip shade of blue to Brooke Burke's slightly soppy take on the colour.

What were they thinking? British star Alexa Chung, Descendents actress Shailene Woodley, Chloe Sevigny and M.IA all had off nights
What were they thinking? British star Alexa Chung, Descendents actress Shailene Woodley, Chloe Sevigny and M.IA all had off nights
Quirky: Christina Ricci and Lily Collins were one-offs in their Thakoon and Valentino gowns, but they paled next to the refined glamour of other gala goers
A Rolling Stone gathers no moss: But they do attract attractive women, see Mick Jagger with L'Wren Scott and Ronnie Wood with Sally Humphreys
Christina Ricci and Lily Collins boldly refused to follow the crowd and wore daring individual gowns.
Ricci donned an incredible number by cult designer Thakoon, that certainly marked her out from the crowd with it's large bow... any celebrity other than Ricci would've looked plain ridiculous, but she managed to pull it off, just.
Dashing couples: Daniel Radcliffe and Rosie Coker went for traditional dance attire, as did fellow Brit Hugh Dancy and his Homeland star girlfriend Claire Danes in J.Mendel
Coming up Trumps: Jessica Biel in Prada looked elegant next to her dashing man Justin Timberlake, and Donald and Melanie Trump tanned up extra-specially
Smart and sharp: Kanye West, Chace Crawford and Gerard Butler all looked dashing in black tie
Not so Lily Collins, who just didn't look glamorous enough in her pretty Victorian-style Valentino gown.

Rolling Stones Mick Jagger and Ronnie Wood wore their rock 'n' roll credentials on their suited sleeves, and Jagger had his designer girlfriend L'Wren Scott cheering up his arm, while Wood had theatre producer Sally Humphreys by his side.

Daring: Jessica Chastain, Sarah Jessica Parker and Debra Messing all looked opulent
Teen queens: Ashley Greene in Donna Karan and Leighton Meester in Marchesa went for white and gold, with varying degrees of success
God Bless America: Hilary Swank in Michael Kors, Amy Adams in Giambattista Valli and Lea Michele made for a patriotic look together
Well trained: An assistant tends to Beyonce's dress as she prepares to walk the steps
05-05-12
Emma Watson appears to be living out her pledge to take time out as an actress by having fun hitting London's nightclubs instead.
The 20-year-old Harry Potter star - who plays young wizard Hermione Granger in the movies - was dressed casually in skinny jeans, a floral dress by French Connection, pale blue cardigan and cream pumps as she was spotted coming out of Bungalow 8 in Mayfair earlier this week.
The star was sporting a huge grin too - possibly as there's no early-morning on set roll calls to worry about right now.
Wonky buttons: Emma Watson couldn't magic a way to do her cardigan up properly as she left Bungalow 8 nightclub in London on Wednesday night
However, it seemed she'd had such a magic night out, was having a spell of trouble with her buttons and hadn't done up her cardie properly as she left the exclusive nightspot.
Still sporting her new elfin crop, Emma said earlier this week that she needs a break from performing before she can decide whether or not to step back in front of the cameras.
Currently on summer holidays from her studies at prestigious Brown University in the U.S., she explained: 'I think I need to find some real belief in myself away from acting.
'I know that I can play Hermione but... I really think I need to recharge my batteries and go and be me for a bit.'
Obviously, the fact that she's worth a reported £22million according to this year's Sunday Times Rich List means there's no pressure on Emma to get back on set any time soon - if ever.
Smiles ahead: The star wants to take time off to decide whether or not she wants to return to acting in the future
Still, Emma is no slouch when it comes to work and even though the star filmed her final Harry Potter scenes in June, since then has been busy launching her new fashion line for ethical clothing company People Tree.
Model behaviour: Emma showing her old hairstyle as she models her range for People Tree
The star has become increasingly interested in fashion since she was hired as the face of Burberry, although the company dropped her earlier this year.
She's also been busy promoting the last installments in the movie behemoth that is the blockbuster Harry Potter franchise.
Harry Potter and the Deathly Hallows is the final film in the series and will be released in two parts.
Part One is slated for release on November 19 this year, with the second and final part hitting cinemas on July 15.
As for the actors that she worked with this time round, Emma she'd gets on especially well with two of the grand dames of British acting.
She said: 'I really got on with Emma Thompson, I loved her to bits. Maggie Smith is an an absolute sweetie. She sends me chocolate and a note at Christmas.'
Ms Watson, who had her trademark locks chopped off at the start of the month for a pixie crop, has virtually grown up on a movie set.
She starred in her first of the adaptations of JK Rowling's childrens' books almost a decade ago when she was cast aged just nine in 2001's Harry Potter And The Philosopher's Stone.
28-04-12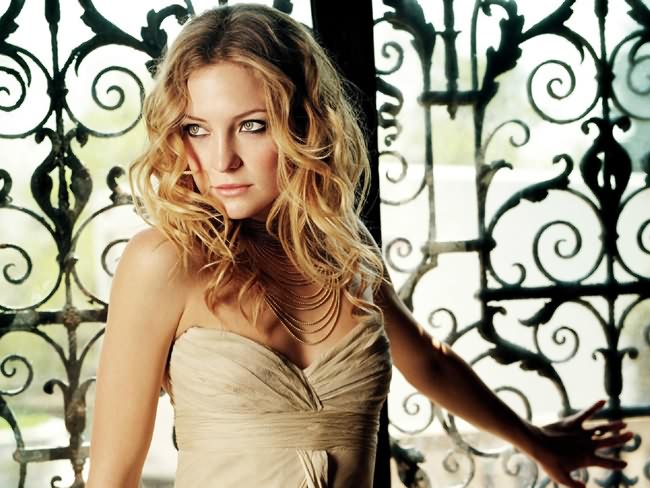 Little girls dream of growing up to be Julia Roberts. They dream of Liz Taylor being fawned over by Richard Burton, of Rita Hayworth and her movie star hair, of Audrey Hepburn and her graceful cigarette holder. They dream of being leading ladies, starring opposite handsome A-list men in the biggest, most widely-seen summer blockbusters Hollywood has to offer. Kate Hudson was undoubtedly one of those starry-eyed girls. Growing up the daughter of Goldie Hawn, she must have always seen herself as a future starlet, which is why her Oscar-nominated performance in Almost Famous seemed a wonderful hint of things to come. In his review, Roger Ebert famously spent an entire paragraph gushing about how brilliant she was in the Humble Pie scene. And then it all imploded.

After The Four Feathers and How To Lose A Guy In 10 Days, one of which tried, one of which was vaguely watchable, Kate Hudson opened a horrifying bag of mediocre, community college garbage culminating in the putrescent-ly abysmal quadrilateral Bride Wars, My Best Friend's Girl, Fool's Gold and that one about Dupree. In the ten years since Penny Lane, she's gone from a rising star to the embodiment of lowest common denominator bullshit. Sure, Julia Roberts did the whole My Best Friend's Wedding thing now and again, but that was between the Erin Brokovich's. But alas, 2010 brings the release of the upcoming Killer Inside Me, her first real effort in eight years. It may well usher in her first positive reviews in a decade, then again, it may be the start of a long, painful trek into 3A.M. IFC re-runs. But hey, at least most of those try harder than Raising Helen.